New Online Banking--Now Live!
We hope you are enjoying the new online banking platform!
The new platform offers:
A clean and modern design that will work on any device: desktop, tablet, mobile phone

New features and customization options to make it easier than ever to access your MCCU information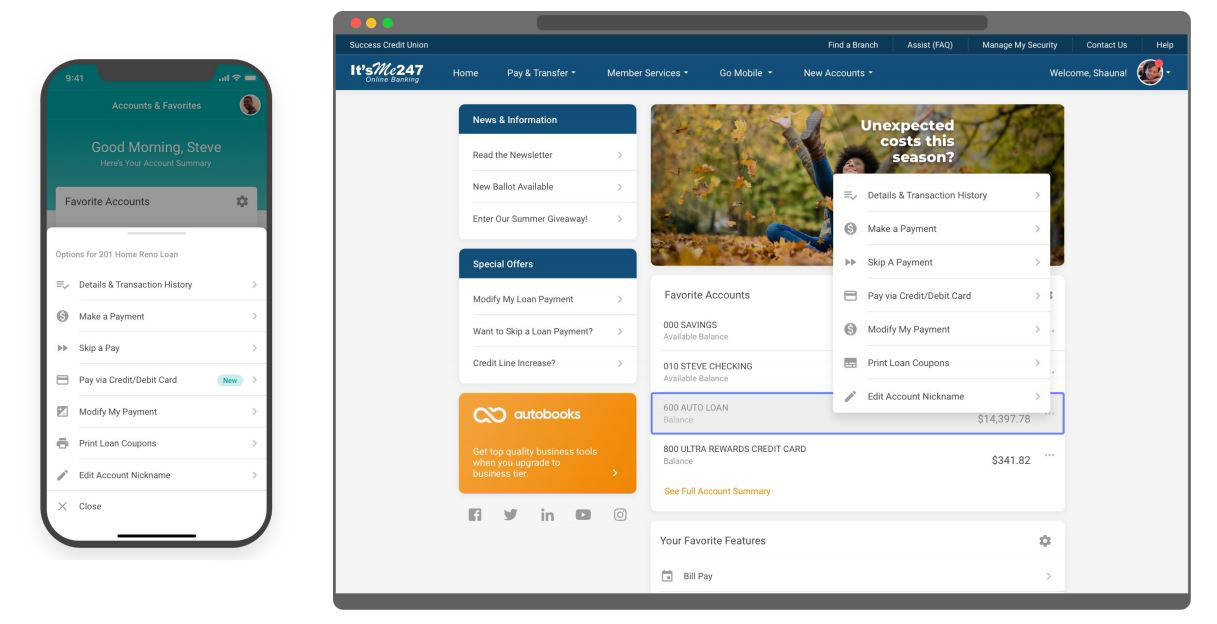 FAQ
Do I need a new user name and password?
No, your existing credentials will continue to work on the new platform!
Are any new features being introduced?
Yes! Here are just a few: you'll be able to pin your favorite accounts and features for ease of use, we'll have a new member messaging system so you don't miss out on any credit union news or special offers, and you'll be able to search your transaction history.
Are any features going away?
Yes, there are a few features that will not be carried over to the new design. Things that will be permanently gone: promise deposits, being able to download Microsoft Money in .OFX format (all other formats will still be available), some on-screen eStatement features, and the ability to change the color/theme when you login. Some features will also be temporarily unavailable, such as: Smart Messages, the "See" feature, and the Mobile Experience Center page. These features will be released in the future once the all of the background components have been completely worked out.
Is there a new web address to log in to online banking?
No and yes--if you log into online banking from this website the widget will look slightly different, but log in process will be the same. If you've bookmarked https://obc.itsme247.com/263/ and log in from there, you will be redirected to a new login page. We recommend updating your bookmark to this new page's URL after the new platform is launched.
I saw a pop up from Chrome that I need to change my password--why am I seeing this?
This is an alert system built into Chrome that is tied to the password you're using, not the website you're visiting. These alerts are triggered under three circumstances: your password has been used more than once, your password has appeared in a data breach and has been leaked online, or your password is not strong enough. This alert is not tied to our online banking platform and does not say or suggest that we have experienced a data breach. We highly recommend that you change your passwords regularly (or use a password generating service) and that you do not reuse the same password on multiple sites. If you do not have this security feature turned on, we strongly suggest that you look into it--it's a great (and free!) resource that will help keep your online accounts secure!
I want to print out my transaction history, but it looks different. What are my options?
There are a couple of different ways to print out your transaction history on the new platform. You can either print the entire web page of the internet browser you're using, snip the section of your screen where the history is displayed, or download the transactions into Excel.
Go to main navigation