Auto Loans
In the market for a new or used vehicle? Or are you looking to lower your monthly payment on an existing auto loan? We've got just what you're looking for!
Local servicing

Terms up to 84 months

Protection plans available to cover you and your vehicle in the event of an accident or total loss

No early repayment penalty

First Time Auto Buyer program

Convenient pre-approval process

Discounted Carfax reports available for all members

Loan options available for older vehicles

Easy loan refinance process
 
 
---
Dealership Partners
Get great MCCU rates and financing right at the dealership! When you visit any of our participating partners, tell them you're an MCCU member and enjoy the ease of a one-stop auto purchase.
---
Featured Dealership Partner

 | Friendly Ford Lincoln

Welcome to Friendly Ford! We're located on Telegraph in Monroe, MI.
Friendly Ford is proud to be one of the premier dealerships in the area. From the moment you walk into our showroom, you'll know our commitment to customer service is second to none.
We strive to make your experience with Friendly Ford a good one - for the life of your vehicle. Whether you need to purchase, finance, or service a new or pre-owned Ford, you've come to the right place.
Friendly - It's not just a name, it's the way we do business!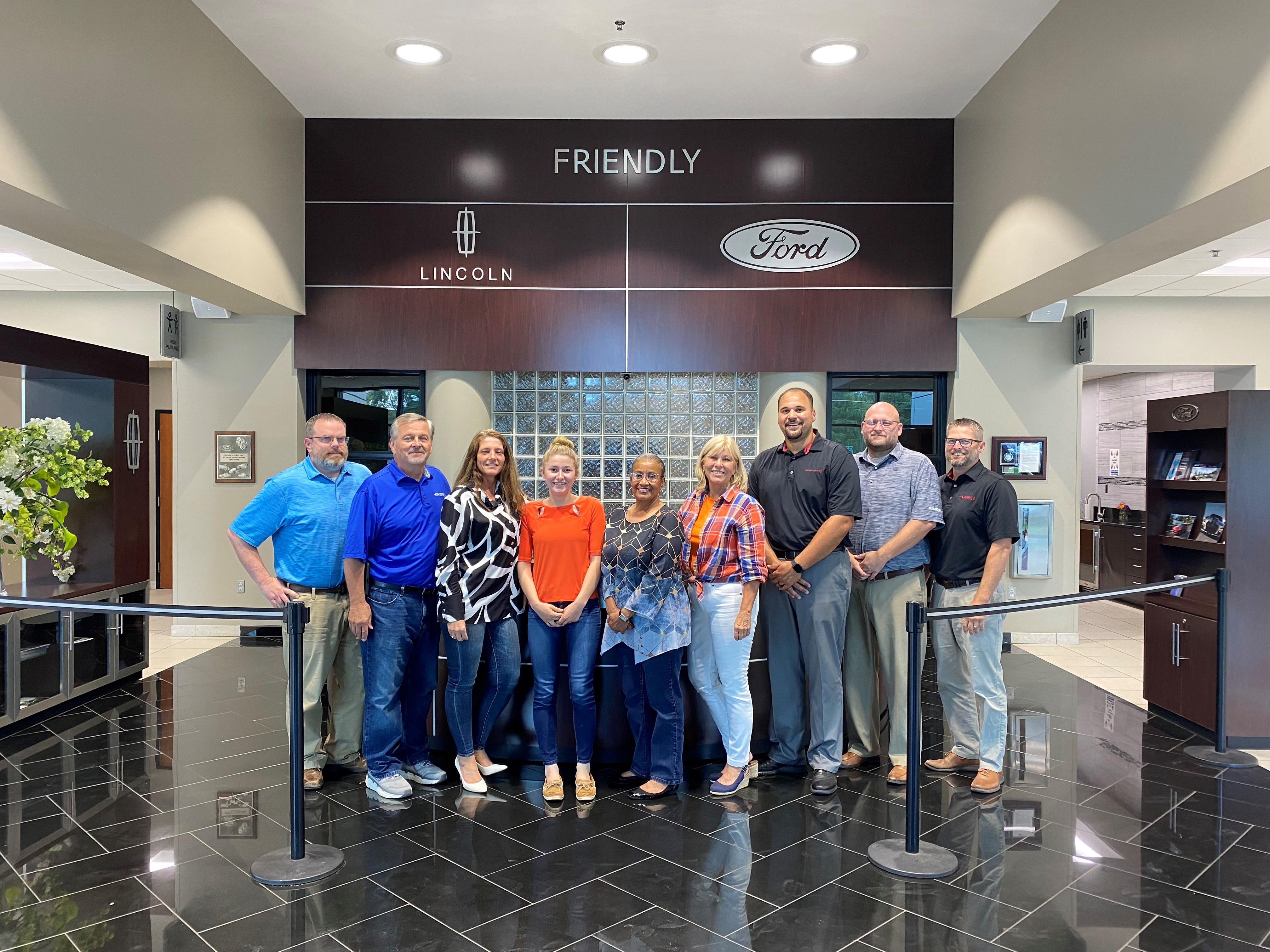 Left to right: Mike Drake, Neil Helfrich, Kristie Harris, Karrisa Lomas, Jan Chappel, Kim Wilson, Blaine Whitlow, Larry Middleton, and Andy Omler
Friendly Ford Lincoln
2800 N. Telegraph Rd
Monroe, MI 48162
(734) 243-6000
www.yourfriendlyford.com
 
 
FAQ
What determines the auto loan rate I receive?
Your loan rate is determined by several factors, including your credit score and the year of the vehicle you're looking to purchase or refinance. 
What terms do you offer on your auto loans?
Term is determined by collateral, but we offer terms up to 84 months on our auto loans. 
Does the vehicle I'm looking to finance need to be insured?
Yes, all auto loans must carry full coverage insurance while MCCU is listed as the lienholder. 
How can I pay on my loan at Monroe Community Credit Union?
We like to make it as convenient as possible for our members to make their loan payments! You can pay through our online banking platform, our mobile app, over the phone, or in-person at any of our locations. You can also make your payment with funds from another financial institution by clicking here--please note, depending on how you choose to utilize this option, a nominal fee may be assessed.
Should I buy or lease a car?
To make this decision, you should calculate your monthly payments and your total net cost for both options. When you compare these amounts, you can determine which option is right for you. Visit our Financial Resource Center to access our Buy or Lease calculator.
What do I need to purchase a vehicle from a dealership?
To purchase a vehicle from a dealership, you will need a purchase agreement from the dealership, proof of insurance, and (in some instances) proof of income. To help make this process easier for our membership, we've partnered with many local dealerships who can process your MCCU financing and paperwork without you needing to make a separate trip to the credit union. Just let them know you'd like to finance with us and they will take care of the rest!
What do I need to purchase a vehicle from a private seller?
To purchase a vehicle from a private seller you will need the seller's title, proof of insurance, and (in some instances) proof of income. Keep in mind, you will need to pay taxes and registration on the vehicle. If you are unsure about anything pertaining to this process, ask your Member Relationship Specialist about what your options are!
What auto loan protection products do you offer?
We offer Guaranteed Auto Protection (GAP) Insurance, which offers total vehicle loss protection and more! Typically, the credit union offers this insurance to our members at a much lower rate than what you will be able to get at a dealership. Included in our GAP policy is Auto Deductible Reimbursement (ADR), which will pay up to $500 for an insurance deductible over the life of the loan. We also offer Debt Protection Insurance, which is designed to help you make your payments, or pay off a loan, in the event of involuntary unemployment,disability, or death. If you'd like to learn more about these products, give one of our loan officers a call!
Do you offer mechanical repair coverage?
Yes! MCCU is glad to be able to offer our members coverage through ForeverCar. Through this partnership you can not only can you save money on unexpected covered repairs, but also receive benefits like rental car reimbursement, 24-hour roadside assistance, and travel expense reimbursement. 
What do I do if I've received a notice from MCCU regarding my car insurance?
In order to serve our membership more efficiently, MCCU partners with State National to track our insured collateral. If you have a secured loan with MCCU, you may receive a notice in the mail requesting additional information including, but not limited to, proof of insurance, or proof of lein. If you have any questions please call 1-800-233-8763 or visit www.myloaninsurance.com today.
Auto Loans
Effective Date:
Thursday November 30, 2023
Name
Rates as low as
Terms up to
Community Advantage (2022 and newer)
6.74% APR*
72 Months
New Auto (2022 and newer)
6.99% APR*
84 Months
Used Auto (2018 - 2021)
7.24% APR*
72 Months
Oldie but Goodie (2017 and older)
7.99% APR*
60 Months
*APR = Annual Percentage Rate. Rates listed above are estimates, and may vary by term selected.
Go to main navigation